The Feather Thief by Kirk Wallace Johnson
On a cool June evening in 2009, after performing a concert at London's Royal Academy of Music, 20-year-old American flautist Edwin Rist boarded a train for a suburban outpost of the British Museum of Natural History. Home to one of the largest ornithological collections in the world, the Tring museum was full of rare bird specimens whose gorgeous feathers were worth staggering amounts of money to the men who shared Edwin's obsession: the Victorian art of salmon fly-tying. Once inside the museum, the champion fly-tier grabbed hundreds of bird skins – some collected 150 years earlier by a contemporary of Darwin's, Alfred Russel Wallace, who'd risked everything to gather them – and escaped into the darkness.
I first heard about this book on the mystery book podcast Read or Dead. And although non-fiction really isn't my thing, this bizarre true crime tale was just too intriguing not to read. It really has everything – history, the underground world of fly tying, the ultimate heist and so much more! I learned so much from this book and I think if you give it a chance you will too.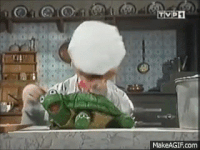 When I first decided to write about The Feather Thief I couldn't for the life of me think how I was going to pair it with any type of food. However, like most of you, I am social distancing and finding myself with a lot more time than I'm used to. And yesterday I had fully fallen down the rabbit hole of social media. But, it was a good thing because I came across this really cool video about the Victorian Era delicacy Mock Turtle Soup. Now I know if you watch this video you won't be saying to yourself "I've got to run right out and find a calf's head to throw in a pot!" and I get you, but there are more up to date versions of Mock Turtle Soup. This one actually sounds quite delicious and most importantly right now comforting!
So if you are brave, and much more accurately bored enough to try either version of Mock Turtle Soup, drop me a line and let me know how it went!
Latest posts by Dawn Best
(see all)